Twitter appoints former Google AI chief with close ties to China
Twitter has appointed former Google AI chief Fei-Fei Li to its board of directors, yet the move has been met with concern due to her prominent involvement in projects and institutions closely associated with the Chinese government.
From leaving Google amid controversy over a military project and intrinsic connections established with Chinese Communist Party-linked institutions, just how Twitter plans to utilize Li's skill set and influence in her role as 'independent director' have raised alarm.
AI experience was mentioned as a key factor in Li's appointment, with Twitter Executive Chairman Omid Kordestani mentioning her "unparalleled expertise in engineering, computer science and artificial intelligence" as crucial in assisting the company to "achieve our long-term objectives".
Li herself mentioned the relevance of her field in her new role, stating that "AI and machine learning can have an enormous impact on technology and the people who use it" and that she looked forward to "leveraging my experience for Twitter as it harnesses this technology to benefit everyone who uses the service".
Although Li's résumé is unquestionably among the most impressive in the field, just what her work in AI seeks to achieve, after looking at her track record, raises plenty of question marks.
Li is a U.S. citizen who emigrated from China with her parents in 1992 at the age of 16 and maintains intimate ties with powerful entities linked to the government of her country of birth.
Project Maven controversy while at Google
Li was involved in a major controversy in 2018 during her time as head of Google Cloud's AI division, after leaked emails revealed that she was concerned about what public knowledge of the company's involvement with Project Maven would do for the tech giant's image, rather than the project's actual militaristic ambitions.
Project Maven was a collaboration with the US Department of Defense that would weaponize AI for more automated and refined drone strikes, and Li sought to protect Google's work on the project for fear of public backlash.
"This is red meat to the media to find all ways to damage Google. You probably heard Elon Musk and his comment about AI causing WW3. I don't know what would happen if the media starts picking up a theme that Google is secretly building AI weapons or AI technologies to enable weapons for the Defense industry," Li wrote.
"I'd be super careful to protect these very positive images," she added.
In the end, 3,000 Google employees protested against Project Maven by signing a letter that was sent to the company's CEO warning against it and about a dozen employees resigned, and Li left the post shortly after.
Google's move to China under Li's tenure
Although Project Maven was halted in the US as a result of those protests, that didn't stop Google opening an AI division to Beijing under Li's tenure which is believed to be carrying out similar work.
Google opened its AI research laboratory in Beijing in 2017 and, by doing so, has since been sharing its deepest secrets with the Chinese government as a constitutional amendment in China the same year obliges new technologies developed by the private sector to be shared with the CCP and military.
Further ties with China while at Google
Fei-Fei Li is the co-director of the Stanford Human-Centered AI (HAI) Institute and along with Jia Li, a researcher at Stanford, former Head of R&D at Google Cloud AI and ex-student of Fei-Fei, have been widely reported by Chinese media as the Google scientists who led the company's efforts to build its AI operations in Beijing.
ML/Vision work lead by my former student Jia Li, Head of Snapchat Research team: Story Explorer https://t.co/TGGy3idrP1

— Fei-Fei Li (@drfeifei) November 24, 2015
Tsinghua University
Also during Li's time at Google, the company began cooperating with a leading artificial intelligence research body at Tsinghua University, a renowned Chinese institution that also conducts AI research for the Chinese military.
Li remains an adviser at Tsinghua University. Its vice-president, You Zheng, holds that one of the main purposes of the university's AI research is to meet national defense needs under a "military-civilian integration policy".
Future Forum, a bridge to the CCP
Li is also tied to the mobile technology and communications developer Future Forum, which is based in Beijing and backed by the CCP and the China Association for Science and Technology, which is "a bridge that links the Communist Party of China and the Chinese government to the country's science and technology community" according to its own description.
"The Forum has been linked with some of the biggest names in Chinese technology, including NetEase founder Ding Lei and Baidu founder Li Yanhong. More interestingly, there are a number of descendants of veteran revolutionaries involved in the organization — including Zhu Yulai, son of former premier Zhu Rongji, and Liu Lefei, son of former Politburo member Liu Yunshan," Radio Free Asia reports.
Chinese dissidents already claim censorship
Since Li's appointment to Twitter's board at the beginning of May, numerous dissidents of the Chinese Communist Party have claimed her appointment as the reason for their censorship from Twitter.
A Chinese writer with the Twitter handle '@Caijinglengyan' had four of his accounts simultaneously deleted on May 18, a day after tweeting that Fei-Fei Li had a "red background" in a post alleging she is a member of a student association affiliated with the CCP's United Front and has close ties with "Second Generation" and "Third-Generation Reds".
Five days later, he was eventually told that it was due to posting identical content across different accounts, yet he defends that he was merely writing on one and retweeting on others, and that no rules forbid having multiple accounts.
French-based Chinese dissident Wang Longmeng (王龍蒙) believes that Twitter's ban on those who criticized Li "was undoubtedly related to her appointment as a director, because criticism and negative information were banned, which is Beijing characteristic".
Li was cited in a December 2017 report by Chinese news portal sohu.com as saying: "China is like a sleeping giant. When she wakes, she will tremble the world."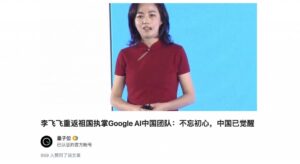 At such a sensitive time when it comes to online free speech, given the intensification of Big Tech censorship amid COVID-19, and matters such as the contentious national security law dispute over Hong Kong as well as the upcoming US presidential elections which all see China playing a prominent role, the appointment of a CCP-friendly must surely beg deeper questioning.