Facebook hires Soros and Gates-funded fact-checker to fight 'fake news'
The Poynter Institute has received money from questionable backers
by Whitney Webb
A few weeks after the 2016 US presidential election, Facebook came under fire for failing to censor stories that allegedly turned voters against Hillary Clinton, leading to a "surprise" win for Donald Trump. Soon after, the social media giant announced that it would partner with then-unnamed organizations who would begin to "verify" what news was true and false. Facebook then announced that its third-party fact-checking is set to begin. Per the new initiative, Facebook-sanctioned "fact-checkers" will flag an article they deem inappropriate, which cause it to be "de-prioritized" or buried in the newsfeed.
Facebook announced that it would be using the Poynter Institute, a non-profit school for journalism in St. Petersburg, Florida, as it's third party fact-checking organization. However, some have openly doubted if the Poynter Institute would act as a fair "fact-checker" due to its funding, which relies heavily on the Bill & Melinda Gates Foundation and George Soros' Open Society Foundation. The Poynter Institute and Facebook will also be partnering with various news organizations who have committed to Poynter's "fact-checking code of ethics."
For the pilot run of Facebook's new program, four of these organizations will be able to flag and bury news they decide is inaccurate: Snopes, Factcheck.org, ABC News, and PolitiFact.
The Associated Press also announced that it would work as a fact-checking partner. Facebook has given these groups access to a tool that allows them to label news as "fake" for a small percentage of current Facebook users in the United States.
A Facebook company representative told Business Insider that the social media site will not rely solely on these "fact-checkers" to determine the worth of a story, such as algorithms that can detect if a story that "appears fake" is going viral and then determine whether or not it should be labeled as fake and hidden from newsfeeds. The company representative did not mention how often this algorithm would be used relative to human fact-checkers from the company's fact-checking partners.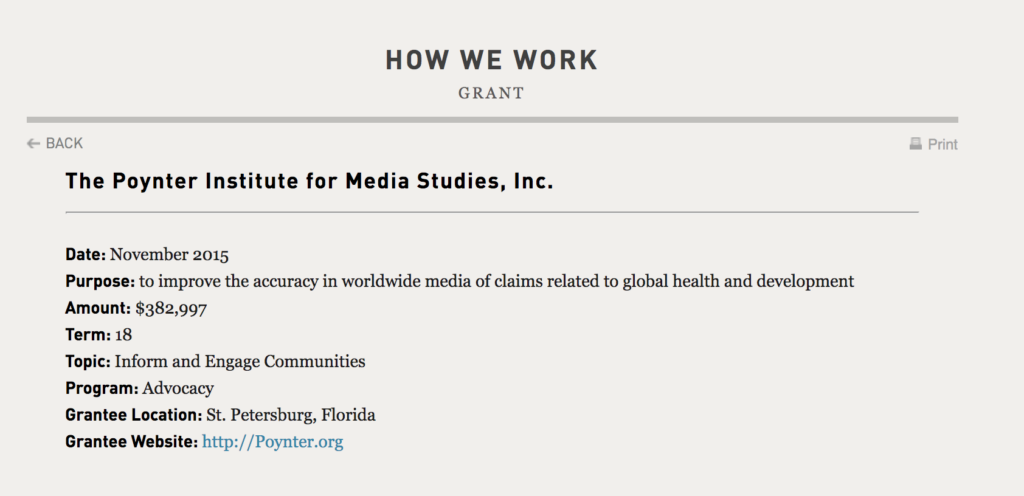 Also of note is that Facebook will prevent sites whose articles are labeled as "fake" from selling ads on the social network. In a company blog post, Adam Mosseri, Facebook News Feed chief, called this part of Facebook's plan "disrupting financial incentives for spammers."
Google is set to do something similar with its AdSense program, which provides a significant portion of income for alternative news websites and blogs. Google, however, is still working on this policy.
Ultimately, Facebook's decision is tantamount to the creation of a "Ministry of Truth," allowing groups to label news "fake" without having to explain why it was labeled as such. With a click of button, these fact-checkers and computer algorithms and decide something is fake only if it "appears to be fake" and can then bury it from view, essentially censoring the article. The initiative also does not offer the sites whose articles are labeled as fake a way of challenging that label, making the decision of fact-checkers final. With nearly half of Americans relying on their Facebook newsfeeds as their primary news source, it remains to be seen if Facebook's latest foray into censorship will "shield" users from "fake" news, or if it will prompt a mass exodus from the social media network to a more open alternative.
---
This article was originally published on MintPress News and has been republished under a Creative Commons license.