Amazon hires former private prison analyst to lead warehouse worker training
The working conditions inside Amazon's 'fulfillment centers' are often compared to prisons so, quite fittingly, the company has promoted a former private prison executive to oversee training of warehouse workers.
In September 2022, Amazon announced several changes to its management teams in warehouse divisions which, among them, was the promotion of Dayna Howard – a former analyst at a private prison company – to the head of training for Amazon warehouse workers.
Research Director for the American Economic Liberties Project, Matt Stoller, wrote about Howard's past work at the sketchy private prison company and how it aptly fits into Amazon's treatment of employees.
"Following Howard's path is interesting for what it says about Amazon. She started her career at the private prison giant known as Corrections Corporation of America, which has since been renamed CoreCivic because it had such a toxic brand," Stoller wrote.
"Some fun controversies involved letting private gangs run an Indiana prison to save costs, and stock manipulation.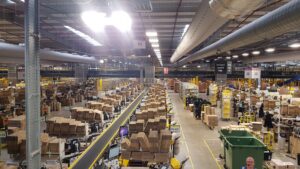 "At CCA, according to her LinkedIn page, Howard 're-vamped inmate admission process and revised all processing documentation. Resulted in a 20% reduction in inmate processing time and a reduced error rate.'
"Howard was apparently good at designing systems to herd prisoners. So naturally, she went to Amazon."
Amazon has persistently faced scrutiny over its treatment of warehouse workers, from algorithmically tracking and monitoring performance to targeting individuals who sign up to unions.