Qantas to require proof of vaccination linked to digital passport
Australia's biggest airliner, Qantas, will require its customers to have proof of COVID-19 vaccination linked with a digital passport in order to fly with the carrier, though it has provoked backlash from customers and a earned a ban from a renowned holiday provider.
The announcement was made by Qantas CEO Alan Joyce, who also spoke openly about such a requirement being adopted across the industry, and revealed that it is a matter that has already been discussed at length between airlines and governments.
"We are looking at changing our terms and conditions to say for international travellers, that we will ask people to have a vaccination before they can get on the aircraft," Joyce told Channel 9's A Current Affair.
The possibility of mandatory vaccination also exists for domestic flights, although Joyce says it would depend on "what happens with COVID-19 in the market, but certainly for international visitors coming out, and people leaving the country, we think that's a necessity.
"I've been talking with my colleagues at other airlines around the globe, and I think that's going to be a common theme across the board," he added.
Joyce also plans to have this proof of vaccination tied to an electronic passport.
"What we're looking at is how you can have the [proof of] vaccination in an electronic version of a passport that certifies what the vaccine is, if it's acceptable the country you're travelling to," Joyce said.
"There's a lot of logistics, a lot of technology that will be needed to put in place to make this happen, but the airlines and the governments are working on this as we speak."
His remarks are in line with the government's new National Vaccination Policy released earlier this month, which suggested that visitors from overseas might have to produce a vaccination certificate before boarding their flight to Australia.
"There may be circumstances where the Australian Government and other governments may introduce border entry or re-entry requirements that are conditional on proof of vaccination," the Australian COVID-19 Vaccination Policy stated.
This also correlates with the International Air Transport Association's recent announcement that its development of a digital health pass in order to get the industry back up and running was in its "final stages" and will be used to record COVID-19 tests or vaccinations to "support the safe reopening of borders".
"We are bringing this to market in the coming months to also meet the needs of the various travel bubbles and public health corridors that are starting operation," IATA director general and CEO Alexandre de Juniac said.
Public backlash, major travel agent bans Qantas
The announcement from Qantas CEO Alan Joyce sparked a furious backlash on social media, with many users threatening to never fly with the airline again.
Leading the case was UK based Holiday provider Tradewinds Travel, which swiftly announced it would no longer provide customers with deals or flight information for Qantas.
"There are far superior airlines with flights to Australia," the company posted on Twitter.
"We will apply the same criteria across the board for all airlines."
We have made a company decision today to not sell any @Qantas flights, even on a code share, following their announcement of no vaccination, no flight. There are far superior airlines with flights to #Australia

— Tradewinds Travel (@UKTwinds) November 23, 2020
Other users also pointed out that Alan Joyce is a member of the World Economic Forum, which is leading the push for a Great Reset to usher in the Fourth Industrial Revolution along a distinct plan formulated by the biggest corporations in the world, a fully digitalized and surveilled society.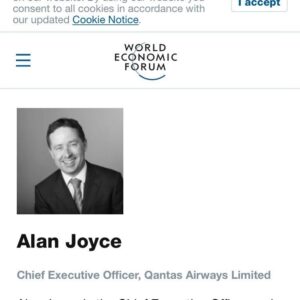 BigTechtopia has covered the topic extensively, and more information can be found here.
Qantas' announcement confirms what many had long suspected having followed the publicly declared intentions of the leaders of the World Economic Forum, with the post COVID script being executed to a tee by those aligned with the UN-linked group.
But as with any company, the loss of customers en masse will inevitably provoke a reaction in attempt to bring revenue back on board. Qantas has already lost two billion Australian dollars (1.24 million euros) since the first lockdown in March, and will certainly be unable to cope if it sees a massive chunk of its clientele refuse to fly with them.
---
Please consider supporting our cause by following us on Facebook and/or Twitter, or by sharing this article on your social networks.