Facebook changed algorithm after US election to boost mainstream sources
Facebook made a change to its algorithm to boost news from 'authoritative' sources, better known as mainstream outlets, after the 2020 US presidential election.
The social network uses a secret internal ranking to grade news outlets on their quality called News Ecosystem Quality (NEQ).
According to a New York Times report, CEO and founder Mark Zuckerberg agreed to increase the weight that Facebook's algorithm gave to the NEQ rank in order for mainstream outlets to appear more prominently after the November 3 election.
"It resulted in a spike in visibility for big, mainstream publishers like CNN, The New York Times and NPR, while posts from highly engaged hyperpartisan pages, such as Breitbart and Occupy Democrats, became less visible," the report said.
This confirms what independent and conservative outlets have long been claiming about Big Tech's selective and opaque forms of censorship, which deliberately favor the mainstream news companies whose politics align with theirs.
Given that Big Tech is openly and overwhelmingly backing Joe Biden, and strongly opposed to Donald Trump, the opaque actions carried out by Facebook inevitably suggest that this significantly gave prominence to the mainstream outlets who, too, were unequivocal in their support for the former vice-president.
A WIRED analysis found that 95 per cent of election contributions from employees of the top six Big Tech companies – Alphabet, Amazon, Apple, Facebook, Microsoft, and Oracle – went to Biden as since the beginning of 2019. According to data released by the Federal Election Commission, $4,787,752 went to Biden and just $239,527 to Trump, nearly 20 times more.
Zuckerberg's 'kill switch'
In August, the New York Times also revealed that Mark Zuckerberg wanted to enforce a 'kill switch' to turn off political ads after election day "if the election's outcome was not immediately clear or if Mr. Trump disputed the results," information which was made knownto them by Facebook employees.
Facebook funds the fact-checkers
One of the ways in which the NEQ rank is influenced is through fact-checkers. Facebook partners with independent third-party fact-checkers which are certified through the International Fact-Checking Network (IFCN).
Yet Facebook is listed among the IFCN's 'major funders' on its official website, essentially making the social network's fact-checking process a validation of its own pre-determined beliefs.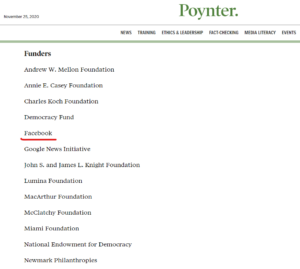 The effect on independent media
This decision has been visible for all alternative news outlets since the election, including BigTechtopia. With 1,500 followers on Facebook, the average reach of each post would be around 200-300 – which is still low – yet articles published after the election have seen that figure drop to around 10-20, making our work virtually invisible.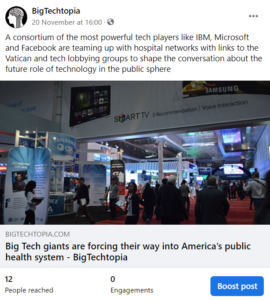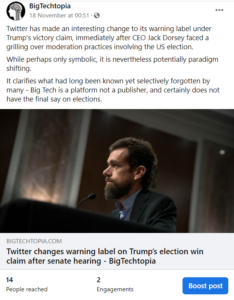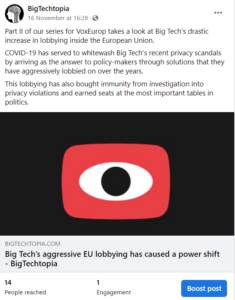 ---
Please consider supporting our cause by following us on Facebook and/or Twitter, or by sharing this article on your social networks.