Liz Truss: Another stooge for Big Tech
"We're trendsetters, first to welcome brilliant inventions into our lives, from the microwave meal to Instagram. Britain is a nation of Uber-riding, Deliveroo-eating, Airbnb-ing freedom fighters."
Yes, those are really the words of the newly chosen UK prime minister, Liz Truss – but that's not all. The head of the Tory party has a record for some pretty clear words and actions that prove that she is an ally of Big Tech companies, their growing monopolies and their disregard for workers' rights.
Online Safety Bill
On Truss' first full day as prime minister, she confirmed that the Online Safety Bill will be taken forward in parliament
The controversial Online Safety Bill was drafted in 2021 which claims to be a way of improving internet safety yet, in reality, will see in wide-sweeping authority handed to the UK government to impose censorship and broader surveillance of its citizens.
Another major concern with the bill is that it de facto requires individuals to identify themselves via digital means online, which is certain to eventually usher in the 'need' for Digital IDs in order to confirm the ages of users, and will lead down a slippery slope for citizens' privacy.
"What I want to make sure the Online Safety Bill does is protect the under 18s from content that is damaging," she said on August 10 on GB News' People's Forum.
But the problem is that this cannot happen without compulsory Digital ID, which is a far bigger concern than anything one might be able to access online.
What the Online Safety Bill will do, much like other so-called safety bills in the digital world, is outsource censorship to Big Tech, which is an absolutely horrible idea.
Thanks to @trussliz for joining us for a great discussion tonight – hope you like @rcolvile's gift! Great example of our dynamic modern economy in action – under an hour from bad joke to finished T-shirt 💪👏 #uber-riding #Airbnb-ing #Deliverooeating #Freedomfighter pic.twitter.com/75pO8Ndc8j

— Centre for Policy Studies (@CPSThinkTank) March 28, 2018
Meeting with Big Tech executives
Just last year, as the UK's international trade secretary, Liz Truss flew to the United States to meet with a number of Big Tech executives.
The US is already the biggest foreign director investor in the UK while it receives the fourth most investments in ICT and infrastructure projects from Amazon, Facebook, Google and Apple in Europe.
Aside from just investments, the meeting suggests that the UK public sector is set for a cosier relationship with the tech giants.
Defending Facebook and Instagram
Going back further, speaking at an event at the Conservative Party conference in Birmingham in 2018, Truss belittled the threat of Big Tech.
Truss fired back at then-Labour Party leader Jeremy Corbyn for wanting to clamp down on Big Tech. Corbyn had previously stated that "digital monopolies that profit from every search, share and like we make" and mentioned that he would impose "a windfall tax on the digital monopolies to create a public interest media fund" but Truss stood up for Big Tech and stated her support for the gig economy.
"Jeremy Corbyn wants to nationalise the internet," she said.
"Things like Facebook and Instagram, they are privately-owned companies and that is what he is against."
Support for the gig economy
The gig economy is sold as the concept of contract work where one can 'be their own boss' but big corporations, particularly tech companies, have formed their business models around this form of cheap labour at the expense of proper employment rights.
The likes of Uber, Amazon and Deliveroo are among the biggest exploiters of this type of work. Deliveroo forced UK workers to sign contracts promising that they would never to go to court to dispute their self-employed status, Uber fires workers for not completing enough trips within a certain amount of time while Amazon warehouse workers wear electronic bracelets and are algorithmically relieved of their duties should they earn three 'strikes', offensives of which can include taking extended toilet breaks.
Yet Truss is fully supportive of this type of work.
"I celebrate the disruptors who challenge the status quo. Gig economy firms like TaskRabbit and AirBnB have brought fresh possibilities to all kinds of people, including those who were previously left behind.
She praised such companies for "breaking down monopolies, hierarchies and outdated practices" while ignoring that they are now rising to levels where they themselves are acting like monopolies.
She described Uber as "a company that is bringing choice and value to huge numbers of people" while AirBnB "is making it easier for people to rent out rooms or to find a cheaper place to stay".
World Economic Forum
The World Economic Forum, the International Organization for Public-Private Cooperation which leads the global agenda on industry and a strategic partner of the United Nations, is the architect of the Fourth Industrial Revolution. This new era will see the advancing on the technological breakthroughs of the Third Industrial Revolution into a radically more digitalized global society, where just about every aspect of one's life will be integrated into digital IDs, monitored and controlled by authority.
The WEF, as of June 3, 2020, has openly stated the need for a 'Great Reset' of the global economy in order to usher in the Fourth Industrial Revolution as the solution to the various crises we see today.
Liz Truss is listed as a member of the World Economic Forum as per its own website, in what is a sobering reminder of who she, and the majority of Western leaders, really serves and whose policies are really in the name of.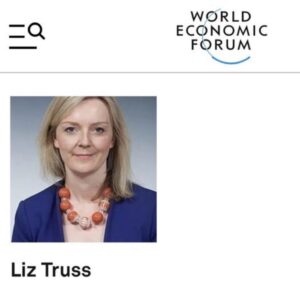 The change in leadership in the UK, therefore, is evidently illusory when it comes to its stance on Big Tech and its growing power over every aspect of society.