Twitter can now terminate accounts for no reason
Twitter's latest Terms of Service update states that it can now suspend or terminate accounts for "any or no reason".
This is just the latest in a long line of measures that gives the company wide sweeping censorship powers at a time when people around the world rely on social networks for information more than ever.
"We may suspend or terminate your account or cease providing you with all or part of the Services at any time for any or no reason," the update states.
This is "including, but not limited to," if Twitter believes:
"(i) you have violated these Terms or the Twitter Rules and Policies or Periscope Community Guidelines, (ii) you create risk or possible legal exposure for us; (iii) your account should be removed due to unlawful conduct, (iv) your account should be removed due to prolonged inactivity; or (v) our provision of the Services to you is no longer commercially viable. We will make reasonable efforts to notify you by the email address associated with your account or the next time you attempt to access your account, depending on the circumstances. In all such cases, the Terms shall terminate, including, without limitation, your license to use the Services, except that the following sections shall continue to apply: II, III, V, and VI."
Such a vague justification sets a dangerous precedent as to what Twitter can do, and does no favors to the overall image the company, which continues to make subtle changes to its policies that go against the freedoms of its users.
Shadowbanning
Twitter had always previously denied shadowbanning, the process by which the tweets of certain users were secretly made invisible to the platform.
Yet in its Terms of Service update on 1 January 2020, it openly admitted that it could "limit distribution or visibility of any content" on their platform for users outside the European Union.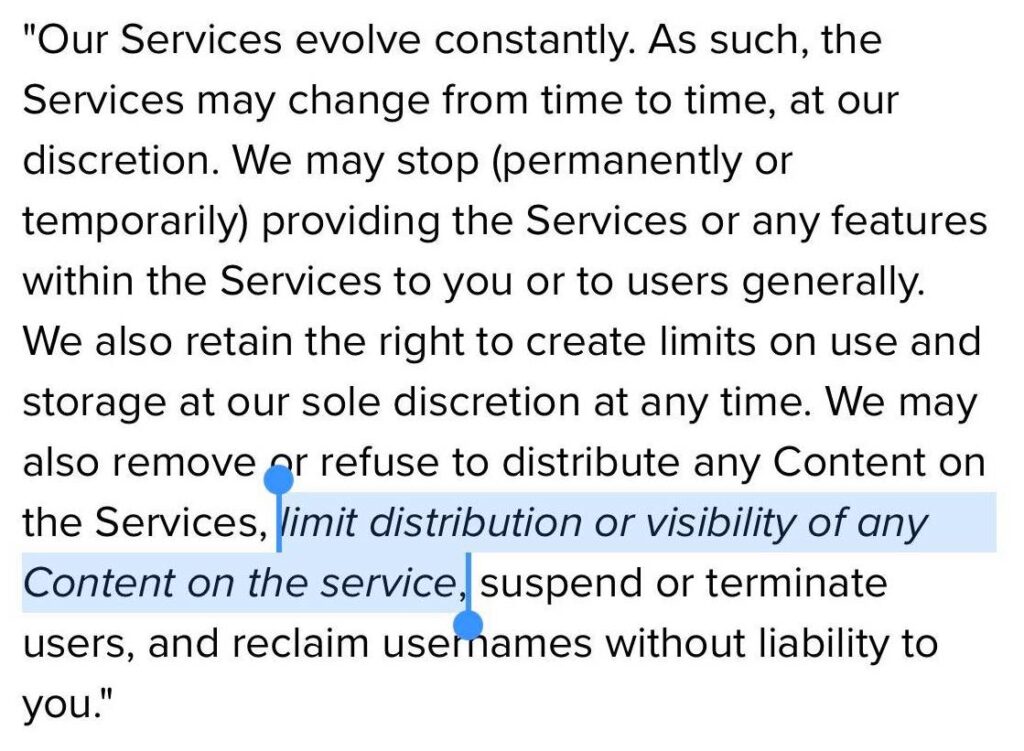 In April 2020, Twitter also altered its data sharing practices on the platform that no longer gives the user the ability to control which of their personal data will be shared with third parties.
This update allows Twitter to share users' personal information to businesses for advertising purposes.
Twitter's ability to remove accounts from its platform without any justification will take effect from June 18, 2020.
---
Please consider supporting our cause by following us on Facebook and/or Twitter, or by sharing this article on your social networks.