Over two thirds of Americans against COVID-19 contact tracing app
Over two thirds of Americans would not download a contact tracing application, with digital privacy being the leading concern among various others.
COVID-19 has led to the widespread call from governments, Big Tech companies and global health institutions to pursue a mobile app that would be able to locate potential infectees with the subsequent likelihood of instructing them to self-quarantine.
However, such apps come with wider surveillance capabilities and security risks, and a recent study by Avira only echoes this public distrust.
The study found that 71 percent of Americans would not install a COVID-19 contact tracing app and 75 percent feel that their digital privacy is at risk if data is made available to the government and authorities.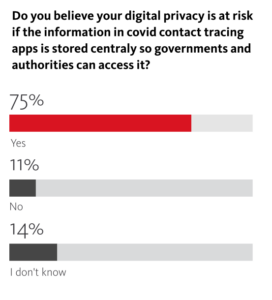 People between 25 and 44 years of age rank COVID-19 contact tracing apps as the biggest threat to digital privacy in 2020, beyond identity theft or even cybercrime.
For the multiple-answer question over which factors respondents were concerned about in regards to COVID-19 contact tracings apps, the leading worries were to do with digital privacy (44%) and providing a false sense of security (39%) above whether the app would be effective (37%).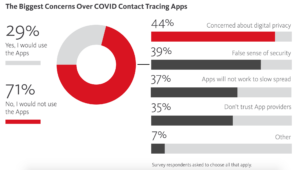 The study also found that those working in government and healthcare are the least-likely to download the technology, with 84 percent of those from these sectors saying they would not use such an app.
The full breakdown of the report can be found here.
---
Please consider supporting our cause by following us on Facebook and/or Twitter, or by sharing this article on your social networks.